Breeding, raising & using top quality horses for the Ranch and Arena!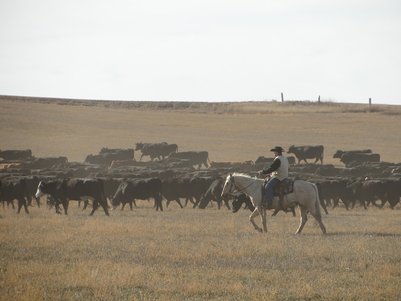 Jim and Darlene Swenson have been ranching for over 35 years.
Raising, riding, and training horses has been a part of the ranch since the beginning.
They ar
e located in western North Dakota around the Knife River breaks of Mercer County.
They Swenson's raised one daughter, Dawn, who grew up on the back of a horse involved in 4-H and rodeo.
Dawn attended Dickinson State University and came home to the ranch (with a husband, Trent). Trent started training horse at age 18 and made his way through college training horses for other people.
After moving home to the ranch, Dawn and Trent decided to stop riding horses for customers and focus their resources on the ranch raised geldings.
Swenson Martin Horse & Cattle Co horses are used everyday to accomplish ranch tasks.
T
he main focus of the ranch is raising quality cattle and the best way to safely & efficiently handle those cattle is from the back of a horse.
The ranch started raising colts to provide the type of horses needed to be able to withstand the conditions of ND.
Horses with size and substance are needed to stand up through 100-degree summer days and minus 40-degree winter blizzards.
Each
horse that leaves the Swenson Martin Ranch will be represented honestly as to what they have seen and done on the ranch. The ranch horses will have been exposed to anything from cold snowy nights in March calving cows to hot summer days dragging calves to the branding fire or moving bulls.
---
The goal of Swenson Martin Horse & Cattle Co. is to provide geldings that have an extensive ranch foundation, so anyone can take them on to various disciplines in the horse world and have a broke confident individual.